Help Support the Texas Peace Officers' Memorial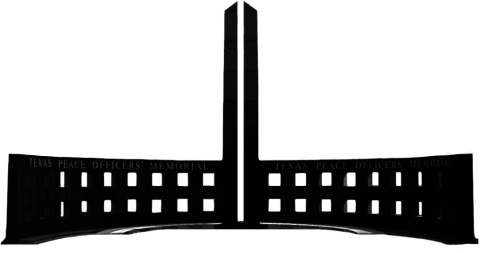 The Texas Peace Officers' Memorial is an outdoor monument where the names of our Fallen Texas Peace Officers are forever engraved. This sacred site serves as a place of honor, gratitude, and tribute to the priceless sacrifice each of these individuals have made.
Designed by Architect, Linda Johnston, the memorial monument was raised under the shade of ancient oak trees on the northeast lawn of the Texas State Capitol grounds in 1999. The structure itself was constructed in black granite and boasts a central feature, which is a towering obelisk placed within an inscribed Texas Lone Star atop a round plinth. The plinth is flanked by two walls on which each panel holds the names of more than 2,050 Heroes, all who died in the service of their communities since 1823.
In 1987, a discussion about constructing a Memorial structure began amongst many Law Enforcement agencies across the state. Once an agreement to move forward was made, these members of Law Enforcement launched a grassroots fundraising effort that took more than a decade to achieve. In May of 1999, The Texas Peace Officers' Memorial was dedicated and opened to the public.
In the years to follow, the Texas Peace Officers Memorial monument suffered damage from our Texas climate and time. It was determined that the Memorial would have to be repaired. In the summer of 2015, in tandem with the architect, contractors, and engineers, the team began a project to replace much of the concrete structural support with a polished granite that would eliminate the need of this kind of repair in the future. Also, the lighting was improved and replaced with state of the art and energy-efficient fixtures. The project was completed by resetting the ground pavers and resealing the joints. This necessary repair was funded solely by private sources.
In May of 2018, the memorial team began to discuss concerns about the amount of engraving space remaining on the wall's front façade. By the end of 2019, only 37 spaces remained, and by the end of 2020, none will remain. Once again, the Memorial Committee commissioned Ms. Johnston to design a plan for expansion that would ensure the State of Texas continues to honor the heroic men and women who die in the service and protection of their community, county, and state.
Now that the design plan is complete, we genuinely need your help. Public funds are not available for this expansion, so we have launched a state-wide fundraising effort to faithfully and adequately honor every Texas Peace Officer who has died in the line of duty.
Will you help us keep our commitment to NEVER FORGET our brave Texas Peace Officers?
You can help! Please consider donating to support The Expansion Project.

Please make checks payable to:
Friends of the Texas Peace Officers' Memorial, 6200 La Calma Drive, Austin, Texas 78752
Friends of the Texas Peace Officer Memorial is a 501(C)3 non-profit, Tax ID 45-4984112
To learn more, please visit www.texaspeaceofficersmemorial.org or email any one of the Texas Peace Officer Memorial committee members:
Dani Story-Stinson: This email address is being protected from spambots. You need JavaScript enabled to view it.
Dick Brock: This email address is being protected from spambots. You need JavaScript enabled to view it.
Danny Arredondo: This email address is being protected from spambots. You need JavaScript enabled to view it.